Getting to rock around the world has plenty of benefits. And among them is the chance to try food in every country. In Japan, they have these fluffy Japanese pancakes that are often called 'souffle pancakes'. They're a bit thicker yet lighter and fluffier than regular pancakes. Join us on our global pancake tour by making this delicious Japanese pancake recipe!
Best Japanese (Souffle) Pancake Recipe
We've got our share of fluffy pancake recipes we make often in our kitchen. But among our favorites are the Japanese souffle pancakes. They're incredibly delicious and have such a cool texture. You've simply got to make them and see for yourself!
Fluffy Japanese Pancake Ingredients
Egg yolks and egg whites – You will need to separate them so you have 1 egg yolk and 2 large egg whites.
Flour – For this recipe, you can use all-purpose flour or cake flour if you have it.
Sugar – Makes your pancakes sweet.
Baking powder – Helps the pancakes lift up for a classic Japanese fluffy pancake recipe texture.
Milk – Provides that creamy texture for the batter.
Vanilla extract – Rounds out the sweetness of the sugar.
Cream of tartar – This will be used when making the egg white mixture.
Easy Japanese Pancake Recipe
Is it different? You bet! But it's not any harder than making any other kind of pancake from scratch. We'll show you how to strike the right chords for balance and getting these tasty Japanese pancakes to come out perfectly.
How do you make fluffy Japanese pancakes from scratch?
There are a few more steps than regular pancakes, but they aren't hard. You'll whisk the egg yolk with a tablespoon of sugar so it's light yellow and frothy, then add vanilla extract and the milk a tablespoon at a time. With a sifter, you'll add in the flour and baking powder, whisking well. Then you make the egg white mixture in a separate bowl with a hand mixer or stand mixer. Whip the egg whites with the cream of tartar until foamy, adding 1 ½ tablespoons of sugar a little at a time until this mixture has a thick meringue texture that peaks. Combine them together, then cook them in a large non-stick frying pan that has a well-fitting lid. The heat must be low, and you must lightly grease it with oil. Pour the batter onto your pan, cover, and cook for 4 to 5 minutes. Lift it carefully, then add a little scoop of batter on top of each pancake, cover again and cook for 4 to 5 more minutes. Gently flip each one over and then cook for 5 to 6 more minutes. They will get taller and fluffier. They're done when they are golden brown on both sides and completely cooked through.
Expert Tips and Tricks for the Perfect Fluffy Japanese Pancakes Every Time
Make sure you get the meringue just right. It should be cold until you whisk it and you should put it in a bowl that is clean and dry as anything else in that bowl can muck up that meringue. The peaks should hold but not be too stiff nor too soft for the perfect Japan fluffy pancakes.
Keep the heat low. Japanese pancakes require a lower cooking temperature and a bit more patience than other pancakes. Turning it up too high will burn the outside while the inside stays raw.
Cover them. Trust us, this will help take care of cooking the inside of the pancake. No one likes a raw-batter-filled inside!
Be gentle when flipping. Take it easy and handle souffle pancakes like you would a rare KISS collectible, ok?
What is different about Japanese pancakes?
Japanese pancakes have a taller profile and a souffle-like texture. While made from the same kind of ingredients, the technique is a bit different which changes how these delicious pancakes turn out.
What are Japanese souffle pancakes made of?
Japanese souffle pancakes have similar ingredients to regular pancakes – sugar, eggs, milk, flour, baking powder, and vanilla extract. They also contain cream of tartar and change in texture due to the preparation method.
What are Japanese pancakes called?
Japanese pancakes are called "hottokeki" for "hotcakes."
Are souffle pancakes raw?
No, they shouldn't be raw. This is why you cook them covered and at a low temperature to ensure the inside gets cooked through.
What do Japanese pancakes taste like?
They're sweet and delicious with an almost custard-like souffle texture to them.
Do souffle pancakes taste eggy?
No, they don't. Or at least, they shouldn't. Following this recipe will keep you from having eggy-tasting souffle pancakes.
How to cook Fluffy Japanese pancakes?
Fluffy Japanese pancakes require patience and dedication. You must mix the egg yolk mixture first, then the egg white mixture. After you make your batter, you'll need to cook them slow and low on your stovetop in a large non-stick skillet that has a tight-fitting lid.
Why do my Japanese pancakes deflate?
Chances are that you have a problem with the meringue step. When you over-beat the egg whites or don't beat them enough, your pancakes can deflate.
How do you make souffle pancakes not deflate?
Take your time making the meringue. You want to beat it enough that it forms good, stiff peaks, but not too much or too little either.
Why is my souffle pancake batter runny?
Again, it all comes down to those egg whites. If you don't beat them long enough, they will become runny and make the batter runny too.
What goes well with Japanese Souffle pancakes?
Japanese souffle pancakes might have a different texture, but they still taste as amazing as regular pancakes with the usual toppings. Maple syrup, powdered sugar, butter, whipped cream, and fresh berries are all awesome options.
How to store leftover Japanese pancakes?
You'll want to put your Japanese pancakes in an airtight container in the fridge after you've eaten your fill.
How long do Japanese pancakes last?
Unfortunately, you won't want to wait long to tear into those Japanese pancake leftovers. They'll be good for up to 2 days, but honestly, they're the best right after you make them so try to use them quickly.
Can you freeze Japanese pancakes?
Well, you CAN, but that doesn't mean you should. The souffle texture doesn't hold up all that well in the freezer.
How do you reheat Japanese pancakes?
Better enjoy your Japanese pancakes now, so reheat them in the oven at 200F. This should warm them up slowly, though expect that the texture will be a bit different than when you first made them.
---
Watch How To Make Japanese Souffle Pancakes (Video)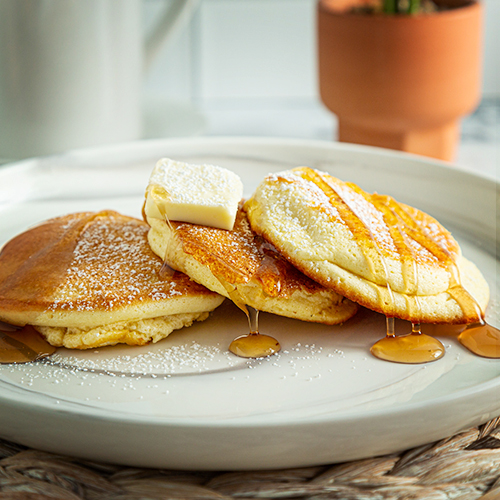 Japanese Pancake Recipe (Souffle Pancakes)
Japan has pancakes? Yes, they do…and they're amazing. Fluffy Japanese pancakes sometimes called Souffle Pancakes are a thicker, lighter, fluffier style of pancake that are absolutely delicious. If you've never had them, you're in for a treat!
Ingredients
Egg Yolks
1

egg yolk

1

tbsp

granulated sugar

1 1/2

cups

milk

3

tbsp

all-purpose flour or cake flour

1/4

tsp

baking powder

1/4

tsp

vanilla extract
Egg Whites
2

large egg whites

1/8

tsp

cream of tartar

1 1/2

tbsp

granulated sugar
Instructions
Start with the egg yolk by whisking together with 1 tbsp of sugar until light yellow and frothy. Whisk the egg yolk with 1 tablespoon of sugar until pale and frothy. Then add in the vanilla extract and begin adding in the milk 1 tablespoon at a time. Using a sifter, sift the flour and baking powder together over your egg yolk mixture and whisk well to ensure all ingredients are well combined.

Next we will work on the egg white mixture. In a separate bowl, using an electric hand mixer or kitchen mixer, whip the egg whites and the cream of tartar together until foamy, adding in the 1 1/2 tablespoons of sugar a small amount at a time until the egg whites are a thick meringue texture that holds a peak well. Once you achieve this texture, stop whipping. You do not want to over whip the egg white mixture.

Next we need to incorporate your egg yolk and egg white mixture. Add about 1/4 of the whipped egg white mixture and whisk it continuously into the bowl with the yolks until well combined. Then add half of the remaining whites into the yolk mixture and continue whisking being careful not to deflate them as they combine. Then transfer the egg yolk mixture back into the remaining egg whites while whisking lightly. Use a spatula to fold the final mixture together evenly.

Now we are ready to start the cooking process. Start by heating up a large non stick frying pan (with a well fitting lid) over low heat. VERY lightly grease your pan with oil and use a paper towel to spread evenly to achieve a very light coating. Once the pan is warm you a ready to start cooking. These pancakes need a lot of space. So unless you have a very large pan with a lid, I recommend making only one or two of these at a time. Using a measuring cup or ice cream scoop, scoop the soufflé's pancake batter onto the pan, cover and cook for about 4-5 minutes.

After about 4-5 minutes, carefully lift the lid and add slightly less than one full scoop of pancake batter on top of each pancake. Cover immediately and continue to cook for an additional 4-5 minutes. Carefully remove the lid and use a spatula to gently look under the pancake to see how cooked it is. When it is ready to flip, the pancake should release easily. Gently flip each Souffle pancake, cover, and cook for 5-6 more minutes. As the pancakes cook, they will expand taller and fluffier when they're done.

You'll know the pancakes are done when they are golden brown on each side and cooked through. Gently remove and serve immediately with your favorite toppings. Maple syrup, powdered sugar, butter, whipped cream, and/or fresh berries are great options!
Nutrition
Calories:
129
kcal
|
Carbohydrates:
17
g
|
Protein:
6
g
|
Fat:
4
g
|
Saturated Fat:
2
g
|
Polyunsaturated Fat:
1
g
|
Monounsaturated Fat:
1
g
|
Cholesterol:
58
mg
|
Sodium:
93
mg
|
Potassium:
172
mg
|
Fiber:
1
g
|
Sugar:
12
g
|
Vitamin A:
213
IU
|
Calcium:
126
mg
|
Iron:
1
mg
More Japanese souffle pancake recipes: