Up all night, sleep all day? Not us. We wouldn't miss the most rockin' breakfast of all time. Our fluffy pancake recipe is so simple, you'll soon be in the breakfast hall of fame for making it. Just a few simple ingredients and you'll see why we like to start our mornings in the most epic way!
Best Fluffy Pancake Recipe
There's really nothing to it when it comes to making the best fluffy pancakes. You don't have to find an open diner or anything. That's what we did…turned our kitchen into pancake-central so that we could enjoy them anytime. And now you can too!
Easy Fluffy Pancake Recipe
Combining those ingredients together only takes 5 minutes. And from there, you'll soon have a nice stack of fluffy pancakes to enjoy. You can share them with your true love, make them for a mess of kids, or even eat them all to yourself.
Fluffy Pancake Ingredients
All-purpose flour – It all starts with the flour when making fluffy pancakes.
Sugar – To get that sweet taste, you'll need 4 tablespoons of white sugar.
Baking soda – Everyone knows good pancakes have a lift to them and that's what this stuff does. It helps your pancakes rise up like the gods of rock plus it controls the browning for the lovely diner-style pancake.
Baking powder – Baking powder works with the baking soda to make these pancakes nice and fluffy.
Salt – This helps bring balance to the sweetness with the sugar.
Egg – One large egg is plenty to help bind the batter together.
Milk – It works with the dry ingredients to create a liquid texture.
Butter – Melt it first. And be sure you choose the unsalted type or else you'll have salty pancakes.
Vanilla extract – The finishing touch that gives these pancakes that chef's kiss of perfection. Get it? KISS?!?
How do you make fluffy pancakes from scratch?
All you do is get 2 large mixing bowls. In one, you'll put all the dry ingredients and whisk them together to combine. In the other, you'll do the same thing with the wet ingredients. Then you will take the bowl of wet ingredients and pour it into the bowl with the dry stuff. Fold it together until things look thick and creamy but DO NOT OVERMIX! Lumps are ok, but if you find your batter to be a bit too thick, add about a tablespoon more of milk at a time until it gets the right consistency. You want that batter to rest while you get your nonstick pan or griddle ready, heating over medium-low and greased lightly with butter. When hot, scoop your batter onto the pan. About 2 minutes per side is all you need – just watch for the bubbles on the surface.
Expert Tips and Tricks for the Perfect Fluffy Pancakes Every Time
Never put all the ingredients together at once. Now that is what we'd call the kiss of death. This may be why all your attempts at homemade pancakes never turned out right.
Don't stir it too much. Pancakes can be completely ruined if you stir the batter too much. Some lumps are completely fine!
Measure that milk. If you do find that the batter is too thick, adding milk will help get it the right consistency. However, only pour it in one tablespoon at a time or it will become too watery.
What makes pancakes fluffy and rise?
Both baking soda and baking powder are responsible for the fluffy texture and the rising. But be careful…if you overmix the batter, neither of these can save you!
What is the key to fluffy pancakes?
Don't overmix your fluffy pancake batter. You should also give the batter time to rest (about 10 to 15 minutes) before cooking. Don't flip the pancakes either until you see lots of bubbles on the top. And never flip your pancakes repeatedly. That will ruin the fluffy texture.
How do you make fluffy pancake batter from scratch?
Fluffy pancakes batter calls for all-purpose flour, baking soda, baking powder, sugar, salt, an egg, milk, unsalted butter, and vanilla extract.
What is the secret to light fluffy pancakes?
This is the secret: never, ever overmix the batter. If light and fluffy is what you want, do not break this pancake rule!
Does milk or water make pancakes fluffier?
Milk makes pancakes fluffier. It is a thicker liquid and you want that batter to be thick rather than thin. Thin batter would make pancakes that don't rise up like they should.
What is the trick to making fluffy pancakes?
There are a few tricks you can use. In addition to not overmixing the batter, you should let it rest for a few minutes before scooping it onto your cooking surface. Also, wait until you see bubbles on the top of the pancake before flipping it.
Does baking soda make pancakes fluffier?
Baking soda reacts with liquids on contact. This is why you want to mix the dry stuff and the wet stuff separately first. When it hits that liquid, it creates carbon dioxide and then gets those pancakes to rise in a fluffy way.
Does baking powder or baking soda make pancakes fluffy?
Both baking powder and baking soda make pancakes fluffy. Baking soda has the added bonus of giving your pancakes that wonderful golden color too.
How to cook fluffy pancakes?
Once you have mixed up your batter, cooking fluffy pancakes takes just minutes to do. A griddle works best and gives you more space to make more pancakes at once (and hence, keeps your cooking time shorter so you can sit down and enjoy those pancakes more quickly). But a nonstick pan works just as well…just be prepared to do more rounds of pancakes. You never want to overcrowd a pan with pancakes!
Why are my pancakes not fluffy?
It could be that you mixed the batter too much. It's tempting to keep stirring, but once things are combined, you need to leave it alone.
Why are my pancakes flat instead of fluffy?
A flat pancake is usually caused by too much liquid in the batter. Pancake batter should never be runny. You can add a little more flour to balance out the batter. If that doesn't help though, your baking powder or baking soda may be too old.
What goes well with fluffy pancakes?
Well, we gotta have our freshly-brewed coffee of course! But to top off your fluffy pancakes, you can do it a number of ways. There's maple syrup, butter, powdered sugar, whipped cream, and fresh fruits like berries.
How to store leftover fluffy pancakes?
Can't eat all those fluffy pancakes? Yeah, we've been there too. You can wrap them well in plastic wrap and put them in one of those plastic zipper bags, then put them in the refrigerator.
How long do fluffy pancakes last?
The sooner you polish these fluffy pancakes off, the better they will taste. However, you can keep them about a week in the fridge before their time has come.
Can you freeze fluffy pancakes?
Oh yeah! Fluffy pancakes freeze up great. You can just stick that bag of leftovers in the freezer. Though we do suggest you use them up within 3 months.
How to reheat fluffy pancakes?
One of the easiest ways to get your fluffy pancakes reheated and ready for breakfast is to heat the oven to 350˚F and put the pancakes on a lined baking sheet. Make sure they're not all on top of each other or anything…a nice single layer is what you want here. Then cover them up with foil and heat for 4 minutes. Then serve them as you normally would with syrup, butter, and all that good stuff!
---
Watch How To Make Fluffy Pancakes (Video)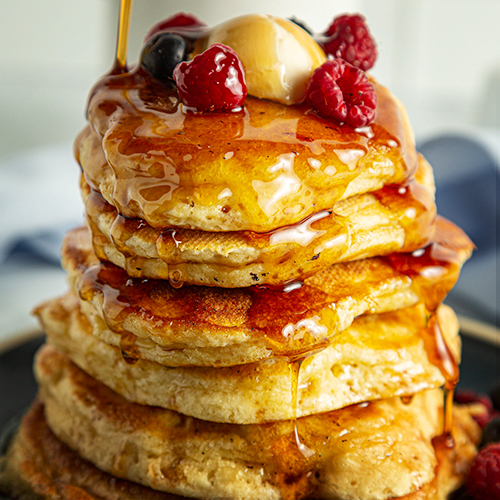 Classic Fluffy Pancake Recipe
The BEST fluffy pancake recipe ever! This easy fluffy pancake recipe uses only a few simple ingredients you probably already have in sitting in your cupboard. The perfect amount of fluff without being too cakey. These soft and fluffy pancakes are delicious, enjoy!
Ingredients
2

cups

all-purpose flour

4

tbsp

sugar

1/2

tsp

baking soda

4

tsp

baking powder

1

tsp

salt

1

large egg

1 1/2

cups

milk

1/4

cup

unsalted butter

(melted)

2

tsp

vanilla extract
Instructions
In a large mixing bowl, add (dry ingredients) flour, sugar, baking powder, baking soda and salt. Whisk together to combine evenly.

In a separate bowl, add (wet ingredients) milk, melted butter (warm, not hot), vanilla and egg. Whisk together until well combined.

Next add wet ingredients into hour dry ingredients and fold together. Continue folding until pancake batter is a thick and creamy consistency. Do not over-mix, some lumps are ok. If the batter is too thick, add 1 tablespoon more of milk at a time until you reach the desired consistency. Place your fluffy pancake batter aside to rest.

Over medium-low heat, heat a non-stick pan or griddle and lightly grease with butter.

Once your pan is hot, using a ladle or measuring cup, scoop about 1/3 cup of pancake batter onto the pan and let it form into a circle. Cook for about 2 minutes until bubbles start to form on the surface. Flip pancake with a spatula and cook the other side for another 1-2 minutes until golden brown.

Cook the rest of your batter and serve immediately with your favorite toppings. Maple syrup, powdered sugar, butter, whipped cream, and/or fresh berries are great options!

Nutrition
Calories:
177
kcal
|
Carbohydrates:
25
g
|
Protein:
4
g
|
Fat:
6
g
|
Saturated Fat:
4
g
|
Polyunsaturated Fat:
1
g
|
Monounsaturated Fat:
2
g
|
Trans Fat:
1
g
|
Cholesterol:
32
mg
|
Sodium:
480
mg
|
Potassium:
84
mg
|
Fiber:
1
g
|
Sugar:
6
g
|
Vitamin A:
225
IU
|
Calcium:
143
mg
|
Iron:
1
mg
More fluffy pancake recipes: