You want pancakes that rock, not pancakes that are hard as rocks, right? Well, you're in the right place because pancakes are one of our favorite things to make in our kitchen. You'll be king of the mountain and king of the kitchen with a classic pancake recipe that shreds all the others!
Best Pancake Recipe
Most people don't realize the best pancake recipe is the one you make yourself. You could drive all over town looking for the best stack, but if you follow our simple old fashioned pancake recipe, you'll soon see the best can come from your home kitchen. These have nice lift and a classic flavor that everyone loves.
Easy Pancake Recipe
We'll teach you how to be a pancake pro with this easy pancake recipe. If you want to get breakfast on the table fast, this recipe is ready from start to finish in less than 15 minutes. That's faster than if you drove around looking for somewhere to eat pancakes and then waiting to be served. And it will taste better too!
Classic Homemade Pancakes Ingredients
All-purpose flour – It all starts with flour to make the homemade pancake batter base.
Baking powder – For classic pancakes, baking powder gives just the right amount of rising power.
Granulated sugar – Pancakes need sweetness mixed into the batter.
Salt – This balances your sweet flavors so they're just right.
Milk – Regular milk helps create the batter texture.
Egg – One egg helps to bind things together.
Butter – Melt it just before you put everything together.
Vanilla extract – It's a must when learning how to make pancakes with the best taste!
How do you make pancakes from scratch?
To make a pancake recipe from scratch, start by getting a large mixing bowl and your sifter to sift in the flour, baking powder, sugar, and salt. Then add all the wet ingredients in, whisking until well-combined and smooth but not over-doing it. Heat your non-stick pan or griddle on the stove top on medium heat, lightly greasing it with buttle. Measure 1/3-cup scoops of batter onto the hot pan, cooking for 1 to 2 minutes until bubbles start forming on top. Flip and cook the other side for an additional 1 to 2 minutes. Serve your golden brown pancakes immediately with your favorite toppings.
Expert Tips and Tricks for the Perfect Pancakes Every Time?
Pancake mix should be lumpy. You don't need to stir out every last lump.
Don't flip before it's time. Watch the tops of those pancakes and you'll see bubbles forming on top. When that happens, it is time to flip.
Don't add too much butter to the pan. Problems happen when you have too much butter (or even oil) because it messes with the pancake mix.
Make sure the pan is hot enough. When you lightly grease the pan with butter and you get it hot enough, your pancakes will cook perfectly.
What is the best pancake mix?
The best pancake mix is the one you make yourself. Store-bought brands always have preservatives and artificial ingredients. You'll get a better flavor from the ones you make from scratch.
How do you make pancake mix from scratch?
If you want to make pancake mix from scratch, you can combine all-purpose flour, baking powder, sugar, and salt together in an airtight jar. When you're ready to make it, you can add the wet ingredients to it.
What to add to pancake mix to make it better?
If you are using up a box of pancake mix from your pantry, you can use milk instead of water like the box suggests. Adding vanilla extract or some cinnamon (or both!) will also make a boxed mix of pancakes taste better, though not as good as making it from scratch.
How do you make pancake batter from scratch?
To make pancake batter from scratch, you need all-purpose flour, baking powder, sugar, salt, vanilla extract, milk, an egg, and butter.
Does milk or water make pancakes fluffier?
Milk will always result in fluffier pancakes. If you have milk, use it instead of water.
What is the secret to good pancakes?
Make sure your baking powder is fresh so your pancakes rise a bit. You should also sift the dry ingredients and resist the urge to over-mix your batter. When cooking the pancakes, pay attention so you can see the bubbles form and know when to flip them.
How do you make homemade pancakes at home?
Using this recipe will teach you how to make homemade pancakes at home that taste like the kind you get at a diner. Once you make them, you will see how easy it is and will be able to do it all the time.
How to cook pancakes?
Pancakes are cooked on the stovetop over medium heat in a non-stick skillet or on a griddle.
What goes well with pancakes?
We love serving our classic pancakes with butter and maple syrup. They're also amazing with powdered sugar, whipped cream, fresh berries, or even a berry syrup. Use your favorite toppings to have the most rockin' breakfast!
How to store leftover pancakes?
Hey, it happens. You make too many and can't eat them. So, wrap them up and put them in your fridge for later.
How long do pancakes last?
We don't recommend keeping your pancakes in the fridge longer than 3 days. They'll probably be fine but they won't be as delicious as they were when you first made them.
Can you freeze pancakes?
A better way to preserve your pancakes is to freeze them. Rockin' moms and dads, you can make pancakes for your mini rockstars this way too. It's a great idea for anyone, though make sure you use them within 2 months for the best taste.
How to reheat pancakes?
If you want them to taste as good as they did the first time, heat your oven to 350F, then place the pancakes on a baking sheet in a single layer, cover, and heat for 4 minutes. Serve as you would with all your favorite pancake toppings.
---
Watch How To Make Pancakes (Video)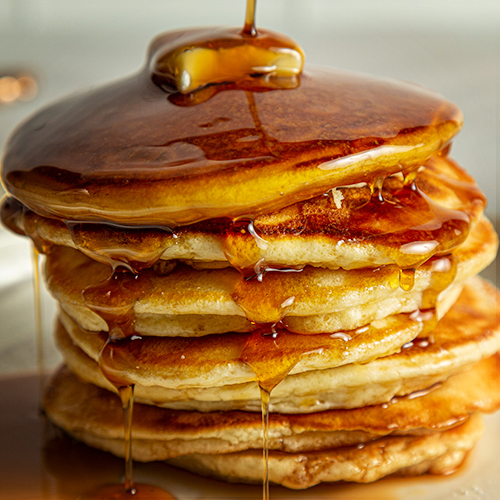 Classic Homemade Pancake Recipe
When your looking for an amazing classic pancake recipe this is our family favorite go-to recipe! The smell of a steamy stack of pancakes on Sunday morning is the perfect way to wake up with a smile and these homemade pancakes come out light and fluffy every time. Learn how to make pancakes with this easy recipe!
Ingredients
1 1/2

cups

all-purpose flour

3

tsp

baking powder

1

tbsp

granulated sugar

1

tsp

salt

1

tsp

vanilla extract

1 1/4

cups

milk

1

egg

3

tbsp

butter

(melted)
Instructions
In a large mixing bowl, sift in your flour, baking powder, sugar, and salt together.

Next, add in (wet ingredients) milk, vanilla extract, egg, and butter. Whisk until well combined and smooth.

Over medium heat, set a non-stick pan or griddle on the stove and lightly grease with butter. Using a ladle or measuring cup, pour 1/3 cup scoops of pancake batter onto your hot pan. Cook for about 1-2 minutes until you start to see bubbles form on the surface and the bottom is golden brown. Flip your pancake using a spatula and cook the opposite side for another 1-2 minutes until golden brown on both sides.

Serve immediately with your favorite pancake toppings. Maple syrup, powdered sugar, butter, whipped cream, and/or fresh berries are all great options!

Nutrition
Calories:
159
kcal
|
Carbohydrates:
23
g
|
Protein:
5
g
|
Fat:
5
g
|
Saturated Fat:
1
g
|
Polyunsaturated Fat:
1
g
|
Monounsaturated Fat:
1
g
|
Trans Fat:
1
g
|
Cholesterol:
24
mg
|
Sodium:
475
mg
|
Potassium:
88
mg
|
Fiber:
1
g
|
Sugar:
4
g
|
Vitamin A:
95
IU
|
Vitamin C:
1
mg
|
Calcium:
145
mg
|
Iron:
2
mg
More pancake recipes: