Even rockstars have bananas that turn brown. When that happens, we love making our homemade banana pancakes recipe from scratch. Over-ripe bananas make for the best pancakes too so don't let them go to waste. We're going to show you how to turn ugly, brown bananas into the breakfast of rock legends!
Best Banana Pancake Recipe
There are lots of banana pancake recipes out there, but we've found they just don't measure up. The batter in this recipe assures the perfect taste and texture that will be your forever recipe to rock breakfast every time.
Easy Banana Pancake Recipe
This easy banana pancakes recipe will be ready to devour in about 20 minutes. If you've got everything you need, put on your favorite KISS tunes and whip up these delicious pancakes for breakfast, brunch, lunch, dinner, or snack time!
Homemade Banana Pancakes Ingredients
All-purpose flour – This is how homemade banana pancakes begin.
Baking powder – Gets your banana pancakes to rise up and rock!
Sugar – Granulated sugar helps bring out the natural sweetness of the bananas.
Butter – Make sure it's unsalted and melt it first before you combine the ingredients.
Banana – You'll need one peeled banana. While you can use a ripe banana, an over-ripe one is best.
Eggs – These will bind your pancake batter together.
Milk – Divide up the portion before you get cooking.
Vanilla extract – A necessity in any pancake batter!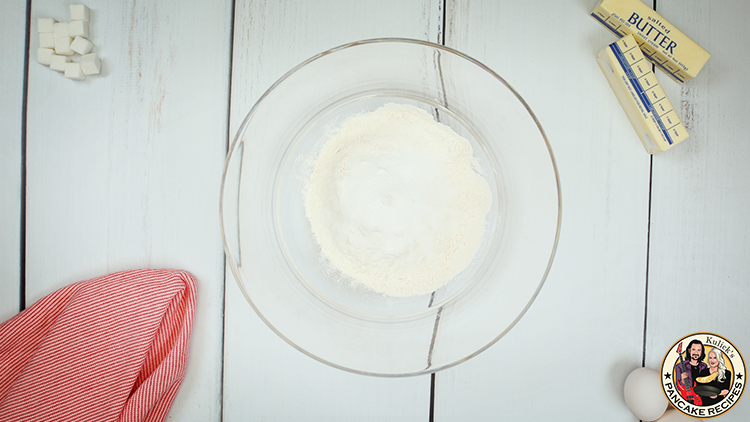 How do you make banana pancakes from scratch?
To make healthy homemade banana pancake batter, start by putting all the dry ingredients into a large mixing bowl and whisk until evenly combined. In a separate bowl, add the peeled banana and mash so that it is nice and smooth. Then add in the eggs, milk, and vanilla extract, whisking until well combined. Now you'll pour the banana mixture into the dry mixture and add the melted butter. Fold it together gently using your spatula so it is just evenly mixed. It should be lumpy and thick so do not over-mix it! Heat your non-stick pan or griddle over medium heat on the stove. Get the pan hot and grease it with butter until it melts. Scoop 1/3 cup of batter into the pan for each pancake, cooking 2 minutes until bubbles form on top. Flip and cook the other side for about the same, until golden brown. Serve with your favorite pancake toppings like maple syrup, butter, powdered sugar, or whipped cream and fresh berries.
Expert Tips and Tricks for the Perfect Banana Pancakes Every Time
Never over-mix it. With banana pancakes, this is even more important because too much mixing mucks up the texture.
Use ripe to over-ripe bananas. They shouldn't be so brown they're attracting flies from all over creation but they should have some brown spots on them.
Be patient for the pan to heat. The secret to making the best banana pancake recipe is knowing when the pan is perfectly hot for even cooking.
How do you make homemade banana pancakes at home?
This recipe will help you make homemade banana pancakes. Simply combine the ingredients as instructed and make sure your pan is heated over medium to avoid cooking the outside faster than the inside.
What is the best banana pancake mix?
The best banana pancake mix can't be found on a supermarket shelf. It's the one you make YOURSELF. This recipe is incredibly easy with simple ingredients you probably have in your kitchen.
How do you make banana pancake batter from scratch?
To make banana pancake batter from scratch, all you need is all-purpose flour, baking powder, sugar, salt, unsalted butter, a banana, 2 eggs, milk, and vanilla extract.
What is the secret to good banana pancakes?
Good banana pancakes have baking powder in them to give them the same texture as a regular pancake. They will taste like bananas yet not overpower with that flavor.
Why are my banana pancakes mushy?
If your banana pancakes have taken on a mushy texture, it is probably from using too high of heat with your skillet or griddle. You need to make sure it's on medium heat so that they can cook evenly.
Why are my banana pancakes soggy?
Soggy banana pancakes are a sign you didn't heat the pan up enough. You want to avoid heating it too high so keep it at medium heat.
Why do my banana pancakes fall apart?
This is common in those 2-ingredient banana pancake recipes, but shouldn't happen here because you have flour and baking powder to help with the eggs and bananas. Still, if you do not mash that banana up to a creamy and smooth texture first, those big banana chunks can make it harder to keep pancakes together.
How do you keep banana pancakes from falling apart?
Banana pancakes usually fall apart when you use those 2-ingredient recipes. This one has flour, baking powder, eggs, milk, sugar, and butter which make more of a true pancake batter and will keep it from falling apart.
How to cook banana pancakes?
Banana pancakes are cooked on your stovetop over medium heat in either a non-stick skillet or on a griddle.
What goes well with banana pancakes?
We love butter and maple syrup on our banana pancakes, but there are many other ways to enjoy them. You can put almond butter or peanut butter on top with slices of fresh bananas, add powdered sugar, or pair them with whipped cream and fresh berries.
TEXT11
How to store leftover banana pancakes?
Banana pancakes can be deceptively filling. So you may have some leftover which you'll want to stow in an airtight container in the fridge.
How long do banana pancakes last?
Better eat them quick…banana pancakes are best when fresh-made, though they will keep for about 2 to 3 days in the fridge. If you can't get to them before that, the best place to keep them is the freezer.
Can you freeze banana pancakes?
Banana pancakes freeze exceptionally well! You should make sure you've got them cloaked in foil or in an airtight container and then they will keep for about 3 months.
How to reheat banana pancakes?
You can reheat them for a few seconds in the microwave if you're only having a few. A better way is to pop them into the toaster until they are nice and hot. If you have a bunch, try putting them on a baking sheet at 350F and covering with foil. This way, they'll be ready in about 4 minutes.
---
Watch How To Make Banana Pancakes (Video)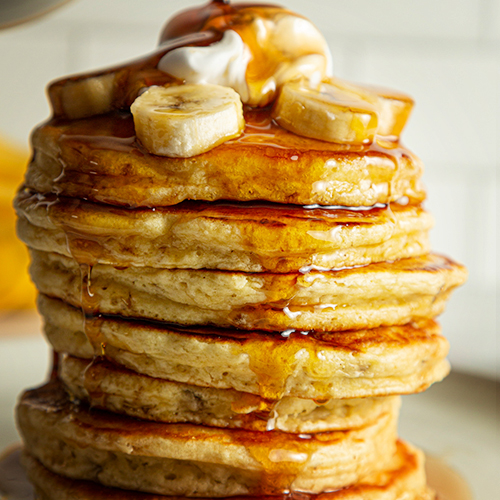 Classic Banana Pancake Recipe
Banana pancakes are one of our favorite! This fluffy banana pancake recipe is crispy on the outside and soft and fluffy in the middle. Warm, ripe, soft bananas in your pancakes add a ton of nutrition and flavor that make these a true standout!
Ingredients
1 1/2

cups

all-purpose flour

2

tsp

baking powder

2

tbsp

granulated sugar

1

tsp

salt

3

tbsp

unsalted butter

(melted)

1

banana

(peeled, over-ripe is better)

2

eggs

1 1/4

cups

milk

(divided)

1

tsp

vanilla extract
Instructions
In a large mixing bowl, add (dry ingredients) flour, baking powder, sugar and salt. Whisk until evenly combined.

In a separate bowl, add the peeled banana and mash with a fork until completely broken down and smooth. Add in the eggs, milk, vanilla extract, and whisk until well combined.

Next, pour the banana mixture onto the dry flour mixture, add the melted butter and fold the batter together gently with a spatula just until evenly mixed. The banana pancake batter should be thick and lumpy. Do NOT over-mix the batter as it will change the texture.

Over medium heat, place a non-stick pan or griddle on the stove and heat until hot. Set a griddle or non-stick pan over medium heat until hot. Grease the pan with butter until melted.

Using a ladle or measuring cup scoop about 1/3 cup scoopfuls of banana pancake batter onto the pan. Cook for about 2 minutes until bubbles start to form on the surface and bottom is golden brown. Flip the pancake and cook until opposite side is golden brown.

Repeat with remaining pancake batter and serve immediately with your favorite toppings. Maple syrup, powdered sugar, butter, whipped cream, and/or fresh berries are great options!
Nutrition
Calories:
151
kcal
|
Carbohydrates:
21
g
|
Protein:
4
g
|
Fat:
5
g
|
Saturated Fat:
3
g
|
Polyunsaturated Fat:
1
g
|
Monounsaturated Fat:
1
g
|
Trans Fat:
1
g
|
Cholesterol:
45
mg
|
Sodium:
344
mg
|
Potassium:
117
mg
|
Fiber:
1
g
|
Sugar:
6
g
|
Vitamin A:
209
IU
|
Vitamin C:
1
mg
|
Calcium:
91
mg
|
Iron:
1
mg
More banana pancakes recipes: