Whether you're on tour and have a late night that turns into morning, or you've got kids bugging you for breakfast, there is one pancake perfect for any occasion. That is the buttermilk pancake, perhaps the king of them all. Our homemade buttermilk pancake recipe makes it easy to create that diner taste in your own kitchen for breakfast, late at night after the show, or any time the craving strikes.
Watch Bruce Kulick and Lisa Lane Kulick make buttermilk pancakes:
Best Buttermilk Pancake Recipe
Buttermilk makes pancakes better, and you'll see that when you tear into a stack of these babies. Buttermilk is acidic so it helps the baking powder and baking soda reach new heights in fluffiness. Plus, it's got that hint of tanginess which gives it that noteworthy taste for the best buttermilk pancakes ever!
Easy Buttermilk Pancake Recipe
We're going to show you how easy it is to make buttermilk pancakes from scratch at home. No need to find a pancake house or diner that's open because you can make these anytime. The batter takes 15 minutes to make and then in minutes, you can cook up a batch of these easy buttermilk pancakes for your favorite people.
Homemade Buttermilk Pancake Ingredients
All-purpose flour – This is how it all begins!
Baking powder and baking soda – You'll want to use both to get these pancakes rising like rockers and result in fluffy buttermilk pancakes beyond your dreams.
White sugar – Pancakes will taste bland without it.
Buttermilk – The star of this pancake recipe for a slight tang in flavor. Learn how to make buttermilk recipe here.
Eggs – The reason your pancakes will bind together.
Butter – Make sure it's melted first.
Vanilla extract – Adds to that flavor profile.
Salt – Gives your buttermilk pancakes balance so they're just the right amount of sweet.
How do you make buttermilk pancakes from scratch?
Grab a large mixing bowl and add all the dry ingredients. Use a whisk to combine them well. Then, you'll whisk in all the wet ingredients but don't over-mix. It should be a little lumpy. Now, let it rest at room temperature for 15 minutes to let the buttermilk, baking soda, and baking powder do what they do best. Then heat your skillet or griddle over medium and grease it (butter, oil, or non-stick cooking spray – your choice!). Use your ladle and scoop about a half-cup of pancake batter per pancake, cooking until bubbles form on top. Flip it and cook until golden, usually 1 to 3 minutes. Repeat until you've cooked as many pancakes as you want, and serve up with warm maple syrup, butter, and fresh fruit on the side.
Expert Tips and Tricks for Homemade Buttermilk Pancakes Every Time
Real buttermilk is best. Yes, you can do a 1:1 with milk and vinegar or milk and lemon juice to make your own buttermilk in a flash. But it won't land you in the pancake hall of fame. However, if you are unable to run to the store for buttermilk, this trick will help.
Stir until just combined. You want lumps, believe us, you do for those pancakes won't be fluffy like they should be if you overly mix the batter.
Use cold butter. If you are choosing butter for greasing your skillet or griddle, running a stick of cold butter on your cooking surface is the best way to do it.
What is the difference between buttermilk pancakes and regular pancakes?
Buttermilk pancakes use buttermilk which is tangier than regular milk. Regular pancakes use regular milk. They still taste good, but they don't have the same kind of tang as buttermilk pancakes.
What is buttermilk pancake mix made of?
Buttermilk pancake mix is made of all-purpose flour, baking soda, baking powder, sugar, salt, buttermilk, eggs, butter, and vanilla extract. 
What does buttermilk do in pancakes?
Buttermilk is acidic so it helps the baking soda take more action. It also breaks down gluten which gives you a better texture. And then there's that nice slight tanginess that it adds, making it the ultimate ingredient for the best pancakes.
Can you use milk instead of water in buttermilk pancake mix?
Yes, if you have a box mix in your pantry you want to use up before you try making buttermilk pancakes from scratch, using milk with that mix will make them even better.
Why are my buttermilk pancakes flat?
There are two possible scenarios – your baking soda might not be any good any more, or you could have overmixed your batter. If you just opened that baking soda and it's not an expired box, chances are you stirred that batter too much.
What is complete buttermilk pancake mix?
If you see a complete buttermilk pancake mix for sale, that simply means it is made with whole eggs and real buttermilk in the mix. The idea is that you can just add water, but making buttermilk pancakes from scratch is just as easy and tastier too.
How to cook buttermilk pancakes?
Buttermilk pancakes need to cook on the stovetop. You can use a skillet or a griddle to make them.
What goes well with buttermilk pancakes?
In our home, we love warming up pure maple syrup and having plenty of butter to put on our pancakes. We also serve them with fresh seasonal fruits. If you're looking for a big breakfast, you can bust out the eggs, bacon, sausage, and hashbrowns for a breakfast fit for a rock icon.
How to store leftover buttermilk pancakes?
Couldn't eat all those pancakes at once? Yeah, it happens. They're a lot more filling than they look. That's ok, because you can wrap them up and store them in the refrigerator until you're hungry later.
How long do buttermilk pancakes last?
With buttermilk pancakes, you should eat them within 4 days if you're keeping them in the fridge. There's always the freezer though if you can't.
Can you freeze buttermilk pancakes?
Yes, and this is probably our favorite way to keep buttermilk pancakes when we make enough for an entire stadium full of KISS fans. You'll want to use them up within 2 months though.
How to reheat buttermilk pancakes?
Our favorite way to reheat these buttermilk pancakes is by putting them in an oven at 350F for about 4 minutes. Covering them with foil and making sure they are in a single layer on a baking sheet will give you the best results.
---
Watch How To Make Buttermilk Pancakes (Video)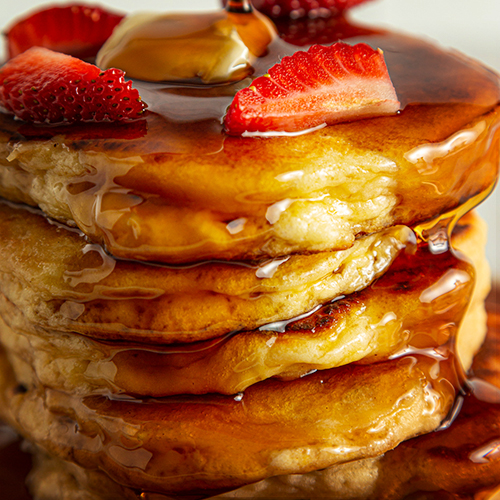 Classic Buttermilk Pancake Recipe
The BEST fluffy buttermilk pancake recipe ever! This easy buttermilk pancake recipe uses only a few simple ingredients you probably already have in your pantry. Its super simple and the pancakes are delicious!
Ingredients
2

cups

all-purpose flour

2

tsp

baking powder

1

tsp

baking soda

3/4

tsp

salt

2

tbsp

white sugar

2

cups

buttermilk

2

large eggs

(lightly beaten)

1/4

cup

butter

(melted)

1

tsp

vanilla extract
Instructions
In a large mixing bowl, add flour, baking powder, baking soda, salt and white sugar. Whisk together the dry until well combined.

Next, whisk in the buttermilk, eggs, melted butter and vanilla extract. Stir until combined. Lumpy pancake batter is ok. Do not over-mix your batter as your pancakes will not turn out as fluffy.

Once combined, let pancake batter rest at room temperature for 15 minutes.

Heat a large griddle or skillet over medium heat. Grease the cooking surface with butter, oil, or non-stick cooking spray.

Using a ladle, add about 1/2 cup of pancake batter (per pancake) and cook until bubbles start to form on the top. Then flip the pancake and cook until golden brown on the other side (about 1-3 minutes). Repeat as necessary with the remaining batter. Seal and store any unused pancake batter in the refrigerator in an air-tight container for future use.

Serve pancakes warm with with pure maple syrup, butter, and a side of fresh fruit.
Nutrition
Calories:
182
kcal
|
Carbohydrates:
26
g
|
Protein:
7
g
|
Fat:
6
g
|
Saturated Fat:
2
g
|
Polyunsaturated Fat:
1
g
|
Monounsaturated Fat:
1
g
|
Trans Fat:
1
g
|
Cholesterol:
38
mg
|
Sodium:
432
mg
|
Potassium:
109
mg
|
Fiber:
1
g
|
Sugar:
5
g
|
Vitamin A:
130
IU
|
Vitamin C:
1
mg
|
Calcium:
119
mg
|
Iron:
2
mg
More buttermilk pancakes recipes: